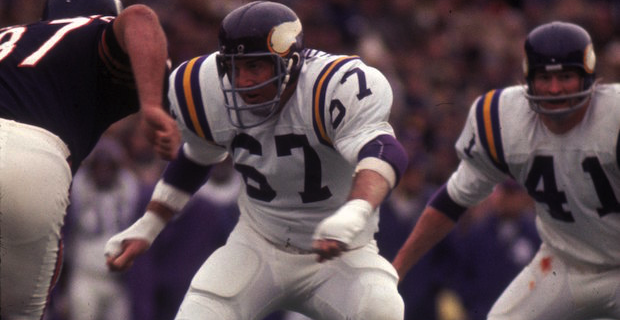 Grady Alderman, a former star offensive tackle, front office employee in the NFL and broadcaster with the Minnesota Vikings, passed away at the age of 79-years-old this week, the team announced on Thursday.
The cause of death was not available at the time of this posting.
Alderman was a six-time Pro Bowl and two-time All-Pro selection in his NFL career and spent 14 seasons in the purple and gold uniform from 1961-74. He played is debut season with his hometown Detroit Lions in 1960 after being drafted in the tenth round by the team. After his playing career ended, he worked on the Vikings' radio broadcasts before being named the general manager of the Denver Broncos in 1981-82.
"We are saddened to hear of the loss of Grady Alderman," owners Zygi and Mark Wilf said, via statement released on the Vikings' team website. "His impact on the Vikings was three-fold — as a great player, as a member of the front office and as a member of our radio broadcasts. Grady epitomized the Vikings work ethic on the field as a Pro Bowl offensive tackle in the early days of the franchise and was a foundation piece for the success of the 1960s and 1970s. Our sympathies are with his family and friends."
Legendary quarterback Fran Tarkenton also spoke to the team website and recalled what it was like to play alongside the offensive tackle.
"Grady Alderman was the first player I met at training camp in Bemidji," Tarkenton said. "He and Mick Tingelhoff went on to be the very best of friends and stayed that way. Grady played left tackle for us and he was everything you would want in a player. He was smart, had great talent and was a team-first guy.
"Those early Vikings teams had a foundation on the offensive and defensive lines — they were Grady Alderman and Jim Marshall. Those two men are how this franchise was built. Grady was a man of integrity, smart, kind and generous. He was the best guy you could ever be around."
(The Vikings are now in the offseason and it's time to build for a run in 2018 and beyond --Don't miss out on the action. Sign up for our FREE newsletter today!)
Alderman was the first left tackle in franchise history in Minnesota, who opened play during the 1961 season. The team commemorated him by naming him to their "50 Greatest Vikings" list in 2010 along team legends such as Bud Grant, John Randle and Cris Carter, to name a few. He won an NFL Championship with the Vikings during the 1969 season when they defeated the Cleveland Browns by a score of 27-7 at the old Metropolitan Stadium in Bloomington, where the Mall of America now stands.