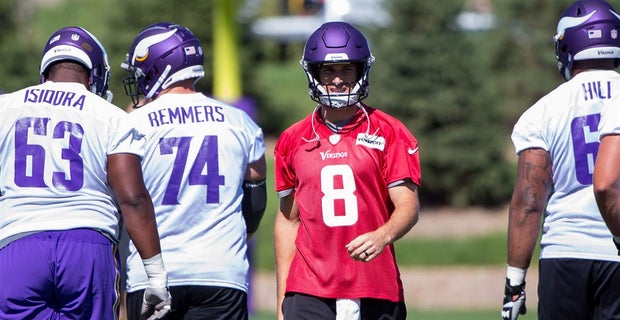 The Minnesota Vikings had their morning walkthrough on Wednesday as training camp continues from TCO Performance Center in Eagan, Minnesota leading up to this weekend's preseason opener against the Denver Broncos. The team has been working through some tough times on the offensive line and putting together good showings day in and day out, but two of the offense's key names took the podium on Wednesday to address some of the biggest concerns going on right now heading into Saturday night's game.
Offensive coordinator John DeFilippo still believes that there are bright times on the horizon for the Vikings offense despite some of their struggles so far. That is what training camp is all about in terms of ironing out the mistakes and making sure that they do not carry over to the regular season. The first-year coordinator believes that their best football is still ahead of them and that bright things are on the horizon. Also addressed were what he sees as the most interesting position battle so far and how he will conduct his coaching role on Sundays between either being in the box upstairs or down on the field with his team.
Quarterback Kirk Cousins spoke after DeFilippo and pulled no punches about what he has to do if his offensive line is not up to full strength. He also addressed his relationship with Stefon Diggs, how important the preseason actually is and was also asked about former Vikings quarterback Case Keenum, who he will face off against for a brief time this weekend. Here is a recap of the post-walkthrough media session.