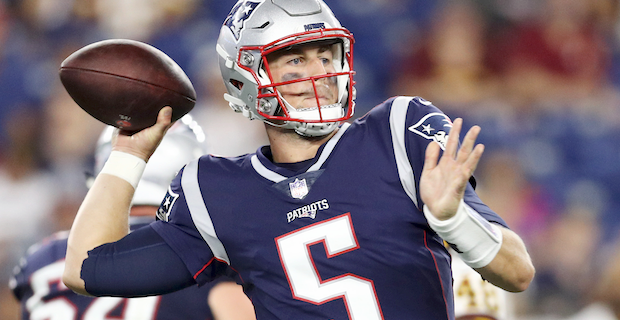 It was something of a soft opening, but it was an NFL debut nonetheless for Patriots rookie quarterback Danny Etling.
The seventh round pick out of LSU entered Thursday's eventual 26-17 win over Washington with just over seven minutes remaining in the fourth quarter. While he had to wait three and a half quarters to make his NFL debut, Etling relayed after the exhibition opener that the waiting did help calm his nerves a bit.
"It kind of helped letting everything settle in the first three quarters," Etling said, "but it was a pretty surreal feeling because you work your whole life for this one moment; to run out there and throw your first pass. It is an accumulation of a lot of hard work."
When under center, Etling completed two of his five passes for 21 yards, a modest outing at a time where New England was simply running out the clock towards the win. After a lackluster first half where Belichick noted they played just 38 seconds of good football, the Patriots were able to rally from what was once a 17-0 deficit to eventually win the game. While Etling wasn't a huge part of the comeback, he was happy to be able to bring New England the rest of the way in the fourth.
The Patriots just earned their first win the preseason. Make sure you know everything before we kickoff 2018 for real Take a second to sign up for our FREE Patriots newsletter!
"It is a great feeling to be a part of that no matter what the circumstance is just as long as it is football and you come back and see how great the guys and the team [did]," he said. "The coach has been doing a great job of going out there and making adjustments and I think that's a testament to the people in this building."
For the LSU Tigers in 2017, Etling completed 60 percent of his passes for just under 2,500 yards to go along with 16 touchdowns and just two interceptions. After arriving to Foxboro following the NFL Draft, Etling has struggled a bit with his accuracy, specifically with his shorter throws. Getting that corrected, along with keeping up with the fast nature of New England's offense, is something the quarterback will work on in the next few weeks, while leaning on the other signal calls in New England, like Tom Brady, for guidance.
"I have just been trying to learn the offense and go from there. It is so much you have to keep working on as a rookie and I keep finding out that you can see guys like [Tom Brady] and how they have been successful like that and try to follow in their footsteps. I definitely watch what they do and try to apply it to myself."