Report: Giants trade two 2018 draft picks for LB Alec Ogletree
The New York Giants have acquired linebacker Alec Ogletree in a trade with the Los Angeles Rams.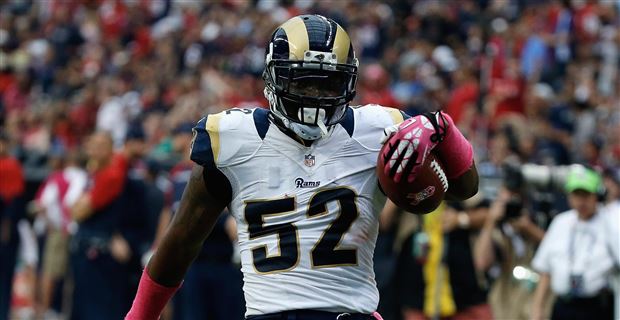 Alec Ogletree is the newest member of the New York Giants defense.
According to ESPN's Adam Schefter, the Giants have traded their 2018 fourth and sixth-round draft picks to the Los Angeles Rams for Ogletree and their 2019 seventh-round pick. The Giants held two fourth-round picks before making the trade and they sent the compensatory pick that was granted to them a couple weeks back by the NFL (No. 135 overall) to the Rams in this trade. According to Schefter, Ogletree was offered in a trade to the Kansas City Chiefs first, but they declined. New Giants defensive coordinator James Bettcher will stress speed and a new breed of linebacker in what has been described as a hybrid defense featuring both 3-4 and 4-3 fronts that he is bringing to New York. Ogletree is the first player that Bettcher and Giants management has deemed to be a perfect fit for the new scheme.
The Giants are just days away from unveiling their 2018 Free Agency plan to the public and we will have all the latest news delivered daily to your emails, take a second to sign up for our FREE Giants newsletter!
Ogletree was one of a handful of prospects the Giants were seriously considering drafting in 2013 at No. 19 overall, but they instead decided to select Justin Pugh. Ogletree ended up going No. 30 overall to the Rams. Ogletree signed a four-year, $42 million contract with $30 million guaranteed from the Rams in October of 2017. He was named a Second-Team All-Pro linebacker in 2016. Ogletree had his career-best season in 2016 after being moved from outside to inside linebacker following the departure of James Laurinaitis. He went on to start all 16 games at inside linebacker for the Rams in 2016 while racking up a career-high 136 tackles. In six NFL seasons, Ogletree has racked up three triple-digit tackle seasons and he finished with 95 tackles in 15 games during the 2017 season despite playing in a scheme that didn't best fit his skill set.
In 2017, with defensive coordinator, Wade Phillips in the mix, Ogletree's play regressed as he was miscast in Phillips' scheme. The Giants are hoping Ogletree's play will jump right back to his 2016 level in Bettcher's defensive scheme that uses more 3-4 fronts.
Ogletree has suffered one major injury in his career when he was placed on injured reserve in 2015 with a broken fibula. This injury has had no lingering effects to date.
With one move, new general manager Dave Gettleman has proven that he values off ball linebackers more than ex-general manager Jerry Reese ever did. Ogletree will likely team up with Giants inside linebacker B.J. Goodson to form a formidable duo as the two inside linebackers in Bettcher's scheme.
Stay tuned for more details.