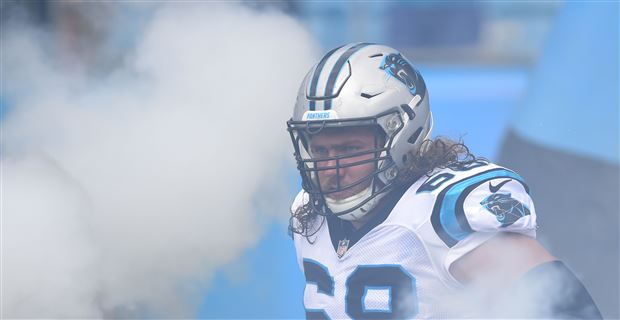 Andrew Norwell to the New York Giants is a matter of when and not if, according to a recent report.
Draft Analyst's Tony Pauline reported on Tuesday Norwell to the Giants is a "done deal" once free agency gets underway on March 14th. Pauline's report lines up with previous reports from ESPN's Jordan Raanan, draft analyst Chad Forbes, and Pauline himself. The buzz has been building and it appears the Giants are just days away from the landing the first major piece on their revamped offensive line. At The Combine, Giants general manager Dave Gettleman himself waxed poetic about how important the offensive guard position is in today's NFL game and why he has no reservations about spending at a position where the general consensus goes against it:
Speaking of spending big, the Giants will have to do so in order to officially sign Norwell. The expectation is that Norwell will command the largest contract in the history of the NFL at the offensive guard position. Last offseason, the Cleveland Browns made free agent offensive guard Kevin Zeitler the highest-paid player at his position with a five-year, $60 million contract worth $12 million annually. According to sources close to Raanan who have knowledge of the free agent guard market, Norwell's potential contract with the Giants will exceed Zeitler's with a projected $30 million in guaranteed money up front and an annual hit of $13 million -- with those numbers he will become the highest-paid guard in NFL history.
Gettleman initially spotted Norwell during the pre-draft process in 2014 and made it a priority to sign him as an undrafted free agent after the draft concluded. Norwell has improved in every season since entering the NFL and earned AP First-Team All-Pro honors in addition to the Pro Football Focus' First-Team All-Pro left guard honor in 2017. Panthers teammates described Norwell as the heart and soul of the offensive line -- a dominant run blocker and above-average pass blocker. The Panthers have already invested hefty contracts at left tackle, right guard, and center plus they will soon have to re-sign emerging elite right tackle, Daryl Williams. If you're looking for a reason why the Panthers could possibly let a 26-year-old All-Pro hit the open market this is it.
NFL analyst Brian Baldinger dug up game tape on Norwell from 2017 and made the case for why all team should be going after him in free agency.
The Giants are just days away from unveiling their 2018 Free Agency plan to the public and we will have all the latest news delivered daily to your emails, take a second to sign up for our FREE Giants newsletter!
Norwell was the only offensive guard in the league to not commit a single penalty from those who played more than 500 snaps this season. Norwell, who's been in on 903 snaps including the divisional round playoff game, has yet to get called for a false start, holding, or penalty of any kind. While some luck has undoubtedly played a role in his incredible streak, Nowell has earned a reputation for relying on proper technique and fundamentals with the ability to execute play-in and play-out since taking over the starting job last season.
Norwell may not be known around the league as a household name, but he's turned into one of the steadiest interior linemen in the NFL. He didn't allow a sack all season in 2017. He would provide a major boost to a struggling Giants offensive line.