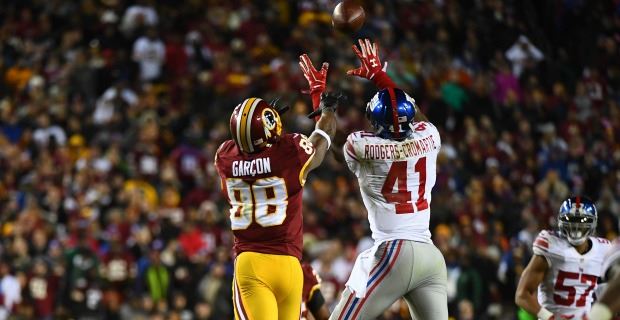 Dominique Rodgers-Cromartie may not be moving to safety full time for the New York Giants in 2018 after all.
According to Paul Schwartz of The Post, new Giants defensive coordinator James Bettcher and the management team overall has not made the decision yet to request a full-time position switch for Rodgers-Cromartie.
It is wise to pump the brakes on the anticipation that Dominique Rodgers-Cromartie is switching positions, from cornerback to free safety. That decision has not been made by the Giants and certainly not been mentioned to Rodgers-Cromartie, someone with knowledge of the situation told The Post.
According to NFL Network's Kim Jones, Rodgers-Cromartie has no reservations or complaints if the Giants do ask him to move positions to safety.
"All I need is a chance," Rodgers-Cromartie said of the position switch, via Jones.
The Giants are just days away from unveiling their 2018 Free Agency plan to the public and we will have all the latest news delivered daily to your emails, take a second to sign up for our FREE Giants newsletter!
Ex-defensive coordinator Steve Spagnuolo used him sparingly at free safety in various defensive packages over the past two seasons. Rodgers-Cromartie has played three positions since joining the Giants -- outside cornerback, slot cornerback, and free safety.
The Giants have not ruled out making Rodgers-Cromartie a cap casualty, a scenario where they will save $6.5 million in 2018 salary cap space by releasing Rodgers-Cromartie, but it doesn't make much sense given their lack of depth in the secondary, his versatility and ability to play three positions, and his game tape which continues to show off sticky pass coverage on all levels of the field.
Former Giants safety Antrel Rolle believes Rodgers-Cromartie can successfully make the transition, but also cautions that he will be a better player at cornerback.
"I think DRC can do whatever he wants to do,'' Rolle said, via The Post. "I think he's gonna buy into it. I personally like DRC better at corner. In my opinion he can be one of the better cornerbacks in the league, without a doubt. Can he make the transition to safety? There's no doubt about it he can.''