The New York Giants were expected to move on from several scouts after the 2018 NFL Draft, with new general manager Dave Gettleman looking to fill the room with his hand-picked scouts, but that hasn't happened just yet. Instead, Gettleman and the Giants have decided to promote one of their own. Chris Petit, who originally joined the Giants organization as a pro personnel intern back in 1998, has now been elevated to Directo of College Scouting under Gettleman's regime.
According to Neil Stratton of Inside The League, Pettit has been promoted to the position following the conclusion of the draft. Pettit has operated mostly behind the scenes during his tenure with the Giants, but he made his way across Giants media earlier this offseason when he was seen having a private chat and handshake with running back Saquon Barkley at the NFL Combine.
Pettit is most famous for discovering undrafted rookie free agent Victor Cruz. Shortly after the Giants' 2011 Super Bowl run and victory, ex-general manager Jerry Reese gave Pettit the credit he deserved when he made it public that he was the scout who found Cruz. Pettit has been a gem in the Giants scouting department for more than a decade, and instead of completely cleaning house and hiring a brand new scouting team, Gettleman's first decision after the draft was to reward a well-deserving employee.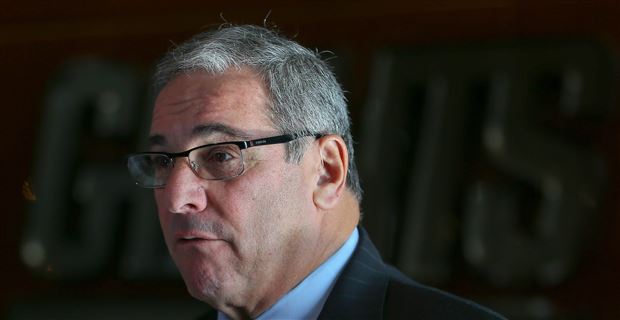 Petit got his start as an intern and remained in that same position through the 2000 season. Pettit would later return to the franchise in 2004 as a scouting intern before finally being hired full time to the Giants staff in 2005. Pettit's initial focus revolved around players at schools from Virginia to Maine, but he also had a focus on players from teams in the Big Ten Conference. The Giants selected players from Pettit's range of schools with their first-round pick (Barkley) and their fourth-round pick (Kyle Lauletta). You have to wonder if Pettit may have played a role in the Giants decision to draft Lauletta to possibly take over as the team's next franchise quarterback after Eli Manning retires or moves on from the team.
The Giants offseason training activities will shortly be underway with the 2018 rookie class, take a second to sign up for our FREE Giants newsletter!
Giants fans are still awaiting the word on what direction Gettleman will go with the rest of the scouting staff. Prior to the draft, Gettleman made it clear there was not enough time after his arrival to completely overhaul the staff left behind by Reese. What Gettleman was able to accomplish in his first draft was an overall philosophy change in how he and these scouts designed and evaluated their draft board. Gettleman learned this new way of creating an overall draft board during his time as general manager in Carolina with a Panthers staff that had already been using it. Time will tell if Gettleman will make other moves to the current Giants scouting staff.