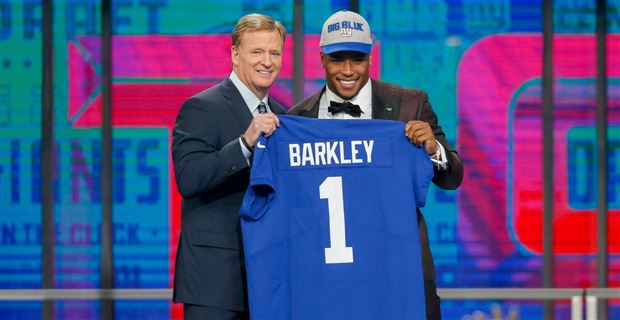 Dave Gettleman and the New York Giants turned down what was supposedly a more than fair offer to trade the No. 2 overall pick in the 2018 NFL Draft.
According to Gettleman himself, the Giants received a 'very reasonable' offer, but they decide it was in the best interest of the franchise to turn it down. Gettleman revealed this on the WFAN's "The Afternoon Drive With Carlin, Maggie & Bart" on Monday. Gettleman, of course, refused to go into any detail about which franchise made him this offer and what the Giants would have received in return for trading the second pick. Shortly after the draft's first night, Gettleman seemed to suggest he didn't receive any realistic offers to trade the No. 2 pick. Gettleman even suggested that some of the offers he received were laughably bad, comparing them to an offer that consisted of "a bag of donuts, a hot pretzel and a hot dog."
The Giants offseason training activities will shortly be underway with the 2018 rookie class, take a second to sign up for our FREE Giants newsletter!
In the end, Gettleman decided that accepting the offer and taking the risk of missing out on Saquon Barkley was not worth it. Just like he said back at The Combine in February, he didn't plan to get "too cute" with the No. 2 pick and he stuck to his word.
"Are you going to be upset if you trade back and don't get the guy you really like, that you feel can really help your football team?" Gettleman said on WFAN Radio, via WFAN Radio's official website. "Those are things you've got to think about when you start trading back."
What to do with the No. 2 overall pick divided the Giants fanbase leading up to last Thursday's draft. One faction of the fanbase (the largest contingent) wanted to stay at No. 2 and draft Barkley. Another faction wanted the time to draft a quarterback at No. 2 -- they had their choices for which one they wanted. The final faction wanted the Giants to trade the No. 2 pick to a team who appreciated the value of it and wanted a quarterback of their choice. In this scenario, these fans believed the Giants could grab several more assets to improve their roster. In the end, Gettleman and the Giants went with the decision that the majority of the fanbase wanted them to. Giants fans in all three factions have come around to the team's decision to draft Barkley after Gettleman cleaned up on Days 2 and 3 of the draft, finding value at every pick and rebuilding the trenches on both the offensive and defensive lines. He also found the Giants their next potential quarterback of the future in Kyle Lauletta.