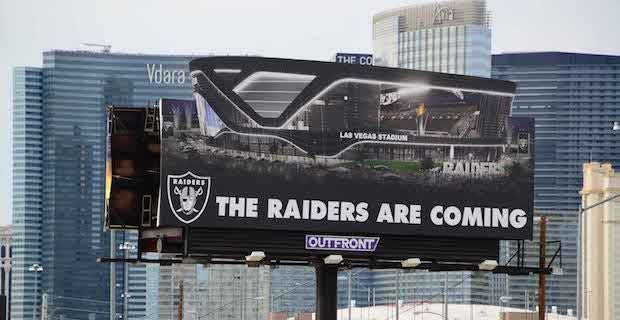 While the move to Las Vegas isn't happening in 2018, the hype surrounding the Raiders' new stadium is picking up steam quickly.
Earlier this month, an eye-opening video of the Las Vegas Stadium construction was released, showing just how far along the build is. And now, the team has unveiled a model of the new stadium, which ESPN's Darren Rovell gave a full look at this week.
Model stadium in Las Vegas Raiders preview center pic.twitter.com/ISuMyQf51J

— Darren Rovell (@darrenrovell) July 19, 2018
While the model doesn't showcase all the incredible aspects expected in the new stadium, it's a nice starting point.
The 65,000-seat stadium is expected to cost $1.8 billion to build and will have folding lanai doors which can be opened for a direct view of the Strip. It should be one of, if the not the most incredible venue in the NFL and all of professional sports.
As things currently stand, the new Las Vegas Stadium is set to be ready for the 2020 season, but with the Raiders only under contract to stay in the Oakland Alameda Coliseum through 2018, the move may happen sooner than expected. The question would then become where the team would play the 2019 NFL season, but there are a few potential possibilities, with nothing concrete bet revealed yet.
If they opt to head to Vegas, playing at UNLV's stadium could be an option, and that would likely be the move that makes the most sense. Realistically, though, you'd have to assume giving Oakland fans one more year on top of 2018 would be preferable.
The Oakland Raiders have completed offseason practices, OTAs and minicamp and are gearing up for Jon Gruden's first season back on the sidelines! Want the latest news sent straight to your inbox? – Sign up for our FREE Raiders newsletter now!
One hot-button topic recently has been the news revealed by Richard N. Velotta of the Las Vegas Review-Journal, who pointed out that personal seat licenses to purchase tickets in reserved seating will range from $3,900 to $15,000. To go along with that, club seats and other premium seats have come with price tags ranging from $20,000 to $75,000 per seat.
There's plenty for fans to be excited about with the new stadium, as well as the team itself, which signed Jon Gruden to a massive 10-year, $100 million contract this offseason. The Raiders shouldn't have an issue filling seats after the move to Las Vegas.