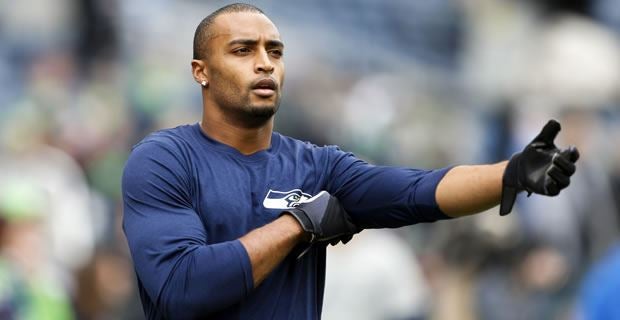 While the NFL and NFLPA start the beginning of a battle on the new national anthem policy, the players themselves are continuing their work to fight injustice off the field and they're talking directly to the President of the United States on this occasion. President Donald Trump has been vocal that NFL players should stand for the anthem and even tepidly commended the new NFL rule that will assure any visible player is standing during its playing in 2018; however he didn't like the rule allowed players to stay in the locker room.
In addition to that, he gave the players an alternative to their protest and they're calling his bluff, so to speak. On Thursday, Seattle Seahawks wide receiver Doug Baldwin, Philadelphia Eagles safety Malcolm Jenkins, retired NFL wide receiver Anquan Boldin and New Orleans Saints tight end Benjamin Watson penned an op-ed piece in the New York Times directly addressing the president's suggestion that they give him names of people he could pardon.
"I am going to ask all of those people to recommend to me — because that's what they're protesting — people that they think were unfairly treated by the justice system. And I understand that," Trump said while speaking to White House reporters two weeks ago. "And I'm going to ask them to recommend to me people that were unfairly treated — friends of theirs or people that they know about — and I'm going to take a look at those applications. And if I find — and my committee finds — that they're unfairly treated, then we will pardon them or at least let them out."
In their response to the president, they reiterated this protest wasn't a matter of individual injustices but systemic flaws in the justice system. Instead of providing a list of names, they offered three alternatives the highest office in the land could take on prison reform right now.
"President Trump could help. He could use his powers, including the clemency power, to make a real dent in the federal prison population. People like Alice Johnson, for example, should not be given de facto life sentences for nonviolent drug crimes in the first place," they said in the piece. "The president could stop that from happening by issuing a blanket pardon for people in that situation who have already served long sentences."
Johnson is a 63-year-old woman who was serving a life sentence for a nonviolent drug crime until Kim Kardashian West successfully advocated she be granted clemency by President Trump. Johnson served 21 years of her sentence before it was commuted and she was released. They showed appreciation for his decision in that case but the four NFL players are asking more of the President including ordering the release of any drug offender over 60, like Johnson, whose conviction isn't recent.
(The Seahawks are now fitting their new pieces into specific roles. Don't MISS any updates. Stay informed right along with us -- take five seconds to Sign up for our Free Seahawks newsletter now!)
They're also looking for some lasting action not just pardoning power from the president by ending life sentences for nonviolent drug crimes.
"Apart from using the pardon power, there are policies the president and the attorney general could implement to help. For instance, they could eliminate life without parole for nonviolent offenses," they continued. "Currently, more than half of those sentenced to die in federal prison are there for nonviolent offenses, and 30 percent of people sentenced to life (or de facto life) are there for a nonviolent drug crimes. Compare that with the state level: Only 2 percent of those sentenced to life (or de facto life) are there for drug offenses."
Instead of bringing the president a few cases of personal tragedy, the players point to a whole system of unjust and heavy-handed sentencing that's wrongly treating prison, as they referred to as, a mental health institution and addiction treatment center.
In closing, they reminded President Trump that their status as NFL players was not why they were committed to fighting injustice but instead, their core values as citizens of the United States led them to use their rights to stand up and fight.
Now, with a clear and carefully laid out message by the four, the ball moves back to the president's court. He asked for names and now he has them -- many, many names indeed.