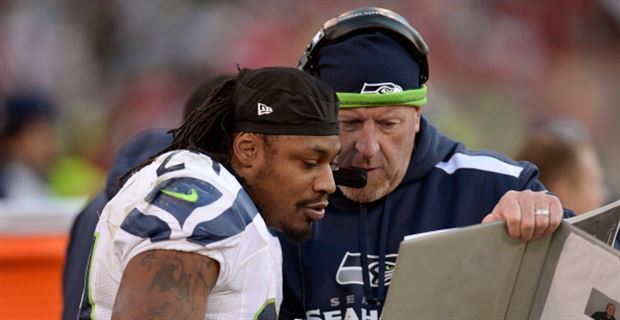 The Oakland Raiders have a "getting the band back together"style vibe in 2018 that only makes sense through the nostalgia-fueled lens this decade has to offer. But while the nostalgia Raiders fans likely pine for under Jon Gruden's return comes from over a decade and a half ago, a reuniting of a pair much more successful, much more recently may prove even more beneficial. It also may in some respects prove harder to recapture.
Gruden's failures are a decade old now. He must adapt and despite his own weekly pining for football traditions long since forgotten on Monday Night Football over the years, he must know that. But for running back Marshawn Lynch and returning offensive line coach Tom Cable, they have much more recent failures to atone for and much more reason to be resolute in their process. Before becoming castoffs (one by choice, one by exile) from the second best and more achievable archetype for the modern NFL dynasty in the Seattle Seahawks (sorry Patriots you remain a mystery), these two were the life blood of that climb to glory.
Under Tom Cable's run calls and styled zone blocking offensive line, Lynch hit new heights in his career and carried the Seahawks with him to their own new heights. Cable believes the two can do so a second time in Oakland. The recent evidence says otherwise. Cable last stop saw him fired after his offensive lines slowly degraded more and more every year until last season where they not only couldn't pass protect (always a problem in the Russell Wilson era) but finally the run game prowess was lost too.
(The Seahawks are now fitting their new pieces into specific roles. Don't MISS any updates. Stay informed right along with us -- take five seconds to Sign up for our Free Seahawks newsletter now!)
The Seahawks line was bottom of the league in rush yards created and yards lost behind the line of scrimmage. Meanwhile, Lynch was suffering too in his first year in Oakland. He had his lowest rushing totals in which he played a full season in seven years, which makes sense being he took a year off in 2017. He produced 891 yards and seven touchdowns on 207 carries with a healthy 4.3 yards per carry. Not bad, especially considered he ran against more stacked boxes than any running back, but still not Marshawn Lynch either.
Cable believes he can bring the old Lynch back. He believes he can "dust himself off" after an inconsistent effort in 2017.
"He's one of the smartest football players I've ever known. I don't hand that out too often," Cable said of Lynch during his Thursday press conference, courtesy of the Bay Area News' Groups' Matt Schneidman.
It wasn't long ago those smarts were being tuned perfectly to destroy opposing defenses. After his failed first stint in Oakland mired in a domestic violence controversy and mediocrity, Cable found himself in Seattle with Marshawn Lynch coming off an ineffective 12 game stint after being traded to the Seahawks in the 2010 season. The totals were okay but the efficiency was meh. He ran for just 3.5 yards per carry. From 2011 to 2014, all the two did together was build four-straight seasons over 1,200 yards and double digit rushing touchdowns. Oh and while doing that, Lynch always rushed for over four yards per carry each and every season. The rejuvenated running back and by extension Cable were the lifeblood of back-to-back Super Bowl appearances in 2013 and 2014 including securing a title in the former.
And yet, Cable clearly hasn't let go off the second Super Bowl appearance. Everyone knows how that one ended.
"We had a blast in Seattle, should have won two Super Bowls," Cable said courtesy of The Athletic's Vic Tafur.
At this point, it's a 2018 rite of passage for former Seahawks to mock the play call from the end of Super Bowl 49.
The decision not to run Lynch on the goalline on that all-deciding and destructive Super Bowl play wasn't Cable's and it certainly wasn't Lynch's but the chaos that engulfed the Seahawks since then; they've certainly played their part in that. Lynch decided to holdout for some extra cash in 2015 and was rewarded only to get injured for the majority of the season and retire in 2016. Cable's decisions on the offensive line led to the slow degradation of the run game and what the Seahawks felt was a lack of accountability among his best pupils.
Now, they both have something to prove together being reunited in Oakland. They need each other more than ever. Just like Lynch may need to dust himself off after a weird season, Cable needs to dust himself off after an outright bad one. Together maybe they can recapture some of that old glory.
Because although their NFL success is much more recent than Jon Gruden's, their NFL failures are too.