There is a reason why Seattle Seahawks running back Marshawn Lynch has "Mama's Boy" tattooed on his back. Raising four children on her own in a rough neighborhood, Delisa Lynch did the best she could to make sure Marshawn had a chance to be special.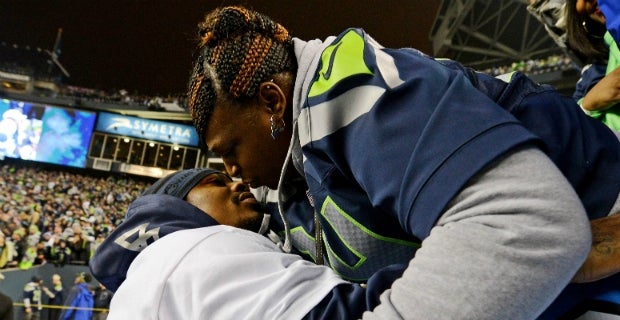 As a guest on KING 5's NewDay Northwest, Delisa said that when Marshawn was struggling in school, Delisa worked out a deal at her job to go to class with Marshawn.
As for the origins of "Beast Mode," his mother would only point to his high school coach calling Marshan a man-child, which evolved into Beast Mode following a switch from quarterback to running back when Josh Johnson took over as signal caller at Oakland Tech.
Marshawn's affection toward Skittles can be traced back to his mom as well. Delisa says she started giving Marshawn the colorful bite-sized candy when he was 11 or so, calling them "power pellets."
"Marshawn would kind of be nervous, and I would be like 'these are your power pellets baby. They are going to make you run real fast and real strong.'"
Those "power pellets" helped Lynch turn into "Beast Mode," a term which he recently explained.
"Beast Mode, it's part of the lifestyle," Lynch said, via SBNation. "It's pretty much self-explanatory. It gets thrown around loosely, I mean, all over. It's not set to one specific thing like we're football players or basketball players. Just if you are in your everyday life and you feel like you just accomplished something big that you had going on, then that's Beast Mode. It's an accomplishment, that you put yourself through something to get something better out of it. I feel that that's Beast Mode."
That might be one of the longest known quotes from Marshawn, as he has never been one to gush to the media.
"He has always been really quiet and very shy. He did not really talk a lot at home," his mother said.
Lynch was noticeably uncomfortable doing media sessions leading up to the Super Bowl back in January.
"He doesn't like it," Lynch said.
His mother, who said she still works for AT&T, called Lynch's agent and suggested smaller media sessions, which she said made the interviews easier for Lynch to handle.
His mother also recalled when Marshawn lost a playoff game in Pop Warner football as a child, he started crying with his teammates.
"If you ever cry, you won't play football because you have so much football left in you," his mother said. "You have to look forward to the next game. Like right now, that loss yesterday is over. Just like if you win, you have to prepare for next week. If you lose, you have to prepare for next week."
Sound advice from mom for Lynch and the Seahawks as they prepare to go on the road against the Rams this upcoming weekend.