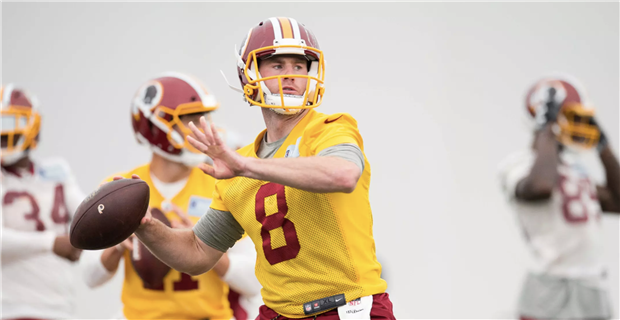 Alex Smith wasn't the only quarterback the Washington Redskins added this season.
Kevin Hogan also arrives via trade, having been shipped to the Redskins by the Cleveland Browns in exchange for a late-round pick.
After cutting Nate Sudfeld last season, the Redskins offense was left short at the quarterback position, with only Kirk Cousins and Colt McCoy on the roster. While not uncommon for teams to only carry two quarterbacks, it did leave a hole on the roster that the team was hoping to fill. In steps Hogan, a D.C. native himself and former fifth-round. He may be currently sitting third on the depth chart, but the 25-year-old has starting experience. It's something he believes puts him in good stead as he learns a new offense.
"It helps me in the sense that I've seen everything that you can see," Hogan said to Redskins.com in regards to the benefits of playing experience. "I got to play in some games, got some game experience. Now I'm able to come here and watch Alex and Colt play and learn from them, guys that are veterans and have done a lot of great things in this league.
"I'm excited because this culture is great. It's good to be a part of it. I love the offense that we're running. Whenever I get out there, I'm hoping to execute it the way it's supposed to be."
While it can be a difficult experience changing teams, the strong locker room already in place with the Redskins is an aid in the acclimation process. Instead of having to worry about merging with his new teammates, Hogan can focus on learning the playbook.
"You've got great locker rooms across the league, so I just think it's really just learning the offense and feeling comfortable with that," Hogan said. "Fortunately, they have a lot of similar concepts and stuff in Cleveland, so right now it's just learning some of the new stuff. It's been a pretty good transition. It's been awesome. The guys are very welcoming, the coaches are awesome. I'm liking it so far."
Having an experienced backup like McCoy also aids in his transition. Having been with the team since 2014, the Texas grad is more than comfortable in Jay Gruden's system, and he's more than willing to assist his new teammate in way possible. Along with the coaching staff, it's the perfect environment for Hogan to master his craft.
"I sit next to Colt in every meeting," Hogan said. "Any question I have, he's always willing and ready to answer. It's nice being able to lean on him because he's been in the system for a while and he's been extremely helpful.
"And then the coaches, [offensive coordinator] [Matt] Cavanaugh and [passing game coordinator] Kevin O'Connell, they've been great. They make the offense easy and quarterback friendly to learn and make it easy to understand. When you understand it, you feel more comfortable and you're able to play better."