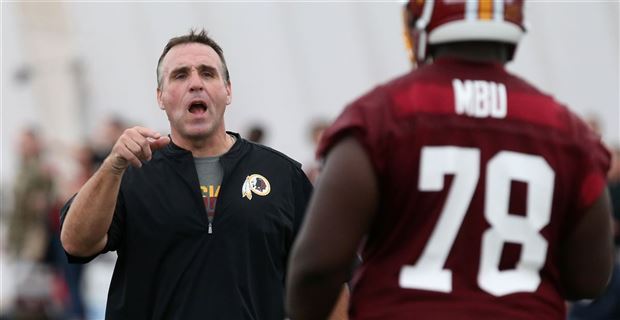 The Washington Redskins defense may look improved, however Jim Tomsula isn't resting on his laurels. After a season in which the Redskins defense finished dead last in stopping the run, it's easy to understand why.
Tomsula has never been one to make excuses for his players' play, and it's no surprise to see him avoid making them now. Although injuries undoubtedly played a role in the Redskins' struggles, the defensive line coach won't let that seep in as an excuse. Simply put, the Redskins have to be better no matter who they have in the game.
"The easy answer is to go out and talk about injuries and the players that you don't have and all that kind of stuff," Tomsula said during minicamp last week. "The bottom line is we need to be able to do it with the people we do have. That's another thing when you bring a couple of young guys in there."
Throughout the last two drafts, the Redskins have worked tirelessly to address their depth issues along the defensive line. Adding bodes like Jonathan Allen and Daron Payne certainly go a long way in doing so, however head coach Jay Gruden is looking moving parts amongst his three down linemen. With the additions they've made, they finally feel as if they have the depth at such a key position to handle another injury crisis.
"It's very, very important to have those big guys that can be interchangeable and not just be a one position, one-trick pony," said Redskins head coach Jay Gruden. "Subbing guys in and out and keeping them fresh throughout the course of the football game, whether you dress five defensive lineman or sometimes six, a good, sound rotation is what you are looking for with big guys that are very talented that can multitask and do different things."
Payne himself is seen as the final piece of the puzzle for the re-worked unit. The former Alabama nose tackle has the ability to play either over center or on the end, and his athleticism had certainly caught the eye of Tomsula during his collegiate career. It's no surprise that the personable position coach was happy to see his name called by the Redskins in this years draft.
"I've watched the guy for two years," Tomsula said. "A guy I was really excited about trying to get. He's athletic, smart and I like his DNA. I like who he is as a guy. The difference between confidence and arrogance is ignorance. I've got to have real confident guys, but you can't cross over and be an arrogant guy because than you're just ignorant. He's got that confidence, he doesn't say a lot and he just loves football."