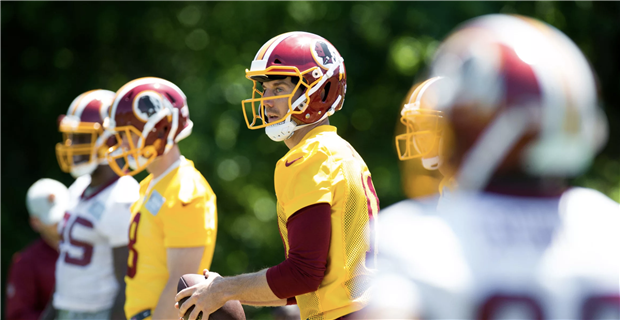 The Washington Redskins traded for Alex Smith this offseason, and already the benefits are beginning to show.
After Kirk Cousins decided to walk, the Redskins pegged the veteran quarterback as the man to lead them forward as they look to kick on after a 7-9 finish last season that has coaches and players on the hot seat.
In Smith, the Redskins now have a quarterback who brings consistent winning pedigree to the table, something lacking at times with their previous quarterback who seemed to struggle in pressure situations. Expectations are admittedly high for the former no. 1 overall pick, but quarterback coach and passing game coordinator Kevin O'Connell knows he has a player who needs little by way of educating. In fact, sometimes it's the other way around.
"When I was in Cleveland I coached Josh McCown and the one thing I learned real quick was you're wasting a lot of knowledge if you don't rely on those guys," O'Connell said via The Washington Post. "And Alex has reps in a lot of different systems. … There's a lot of times we call a play, we execute it, we go in and watch the tape and he can call back to a play they either had in Kansas City or San Francisco and say, 'Hey, we might've read it like this or this is how we attacked this coverage.' "
With Smith able to attack certain formations in his own way, so too have coaches began to look at their own playbook differently. With a quarterback as competent and intelligent as Smith, O'Connell admits that sometimes all that's needed is a small fix here or there to make the transition for the 34-year-old that little bit easier. At the end of the day, it's about educating Smith as quickly as possible to allow him the ability to hit the ground running when the regular season kicks off in September.
"Maybe it's a little tweak here and there that people may not notice, but from our standpoint in the system, it's a big deal to get it implemented," O'Connell said. "But we're doing that to make him as comfortable as we possibly can.
"Then there's other times where you say, 'No, we've really done it like this and here's why.' I think that's the key word, 'why.' Why are we doing the things we're doing offensively? If there's a better way to do it that he's done somewhere else, we'll incorporate that. But if we feel strongly about how we've done it here or how Jay's done it, even going back to his time in Cincinnati or Tampa, we're always trying to incorporate things to make what is a really good offensive system even better."