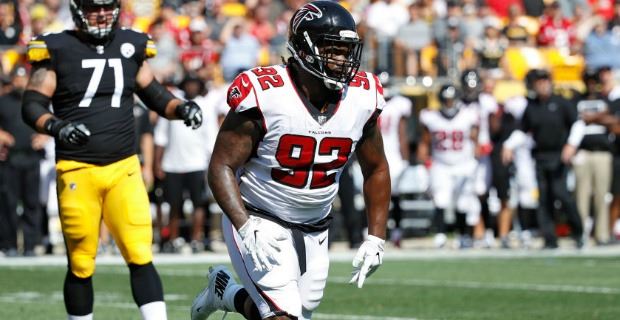 The Washington Redskins have been widely tipped to select a nose tackle with their first pick of the NFL Draft, but they could be eyeing one up in free agency as well.
According to Jason La Canfora of CBS Sports, the Redskins front office are monitoring soon-to-be free agent defensive lineman Dontari Poe, who impressed last season with the Atlanta Falcons and previously, the Kansas City Chiefs. Poe signed a one-year deal with the Falcons prior to the start of last season.
"Some executives I spoke too could see Dontari Poe staying in the NFC South, moving south from Atlanta to Tampa Bay," La Canfora wrote. "He put up strong film with the Falcons last year on a prove-it deal and the Skins, Broncos and Colts are among those who would have interest."
Adding a proven piece to the puzzle like Poe would be a major coup for the Redskins, who featured the NFL's worst run defense last season. The former Memphis Tigers star finished with 39 tackles and 2.5 sacks in 2017. The former first-round pick was named to the Pro Bowl in both 2013 and 2014, with a second-team All-Pro selection also awarded in 2013.